Why Choose Dionne Orthodontics?
Experience
Dr. Dionne has over 3 decades of clinical experience as a dentist, 20 as a Certified Specialist in Orthodontics. Dr. Dionne's years as a general dentist allow him to communicate with and help your family dentist.
Our office was the first orthodontic office to win the Windsor and Essex County Small Business of the Year Award! https://youtu.be/-YKSbM8kcrM
Modern Facility, Awesome Service!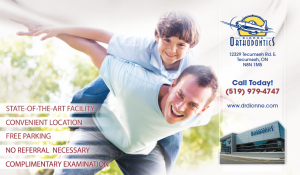 Our spacious office offers iPads, free WiFi, and a coffee bar for our patients and parents.
Our ultra-modern facility is conveniently located right off of the Expressway, and has FREE PARKING!
Dionne Orthodontics offers a free new patient exam and a follow-on growth and development monitoring for your children at no cost.  What could be better for the concerned parent than to have their growing children's dental and facial growth supervised by a Certified Specialist in Orthodontics? Call today!
Looking for awesome clear stain-proof CERAMIC COSMETIC BRACES? No worries, we have them, and there is NO EXTRA CHARGE!
No separate fee for retainers and the retention phase, after braces are removed.
We always have fun contests going on for our patients. We also have our innovative 'Orthobuck' points reward system to encourage treatment compliance and good hygiene.
Dionne Orthodontics has a modern, fully equipped orthodontic laboratory manned by a full time laboratory technician. Most of the appliances we use are made RIGHT HERE! If repairs of broken / damaged devices are ever required, the presence of an on site technician means we can often save you a visit and do it in one visit.
For the quality assurance geeks out there – Dionne Orthodontics has hired, worked with, and implemented QA programs designed by a J.D. Powers-trained Quality Assurance engineer. You speak Six Sigma and ISO? We get it!
Dr. Dionne is bilingual – Ici, on parle francais! In our office, Italian, Maltese, Tagalog, Portuguese, plus a bit of German, are also spoken.